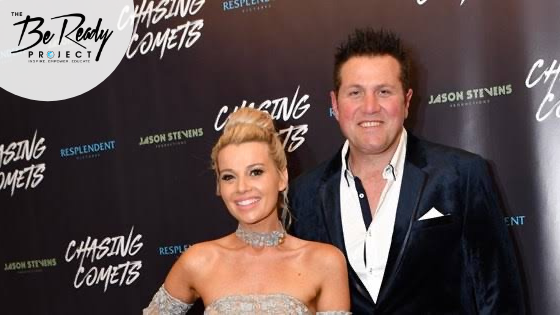 Advice from an NRL Player/ Movie Producer
Written by Tate Wilkins
Unrealistic Expectations
Last year, while on the Matty Johns podcast, Brett Finch explained how a friend told him to get up early to watch the sunrise over Bondi Beach, as the ex-Roosters halfback had been struggling with mental health problems and addictions. Nestled up over Ben Buckler point, Finch was treated to a spectacular light show; red, orange and purple hues dancing over the world famous waves and a light, salty sea spray waking up his weathered face. Normally Finch would be fast asleep for another 3 hours. Today, he's started the day like this. He stops and thinks to himself…..
"Is that it? – I've kicked a winning field goal in Origin in front of 80,000 people before!".
When you experience such amazing highs so early in life, everything else can pale in comparison.
You're retired; don't sign my jersey!
Rewind to Round 1, 2005. Jason Stevens receives a text from a 20 year old Paul Gallen. "Stevo – come down and sit on the bench. We want you down here". It is obvious the youthful Sharks miss their forward leader who had retired at the end of 2004 after 8 years in the Shire and countless games for NSW and Australia. A young, starry eyed fan passes Gallen a jersey to sign who then proceeds to hand it to Stevens. Before he could grab the pen, the kid takes back the jersey saying "Who is that? No, I don't want him to sign it". The previous September, Stevens had been doing his farewell lap of Toyota Park; 5 months later he is a nobody in the eyes of a young fan. "When you're playing NRL, every door is open – people want to talk to you, there's opportunities with sponsors, fans, businesses. When you retire, all the doors suddenly close shut". For both Brett Finch and Jason Stevens, these players weren't just average first graders; they had played at the highest level for over a decade. The question is – if this happens to these superstars, then how does the average first grader cope with retirement?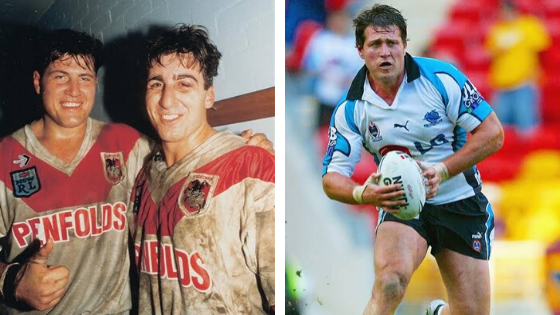 Photo credits: Getty Images
The part time vs the full time player
Jason Stevens was the last of the amateur footballer. Seems totally foreign to the 2020 player but Stevens fondly recalls his days of gym sessions in the morning, rushing to catch the train to work in the city than leaving at 3pm for training in the afternoon. Sounds terrible but in a way Stevens seems to prefer it that way. "It was exhausting but it definitely gave some balance. (Former player) David Barnhill said when being told he had to go fulltime 'Do I have to? I enjoy working!'" Stevens also credits his upbringing in Brighton for being well grounded; paying special homage to his single mother raising 4 children on a single income. "Even when I had a day off, having a Greek mum, I would have a tonne of chores to do at home when I finished training!" There's that phrase 'the busier you are; the more you get done' something Stevens has always strived to follow. In 1997, Stevens changed from St George Dragons to bitter rivals Cronulla Sharks and, being the lucrative Super League season, heralded an era of high paying, full time professionalism. "Most players didn't know what to do with their spare time. A lot of boys would just hang out and play Playstation all the time; just wasting their time……I know a few ex-sharks players who are now broke and it breaks my heart".
Jason Stevens certainly wasn't a player who was content in playing footy only. In the late 90's, he had a contract with the uber-popular Footy Show, interviewing Hollywood stars such as The Rock, attending movie premieres overseas and, of course, performing comedy skits with Matty Johns. Yet goalposts can be moved as fast as they are put up and new management at Channel 9 can mean being an employee for over 6 years means nothing, as Stevens found out. So, at the end of his career, he was left with no job to move directly into – just like all the "Playstation-playing players". And it even took a guy like him with these strong values, views and experiences a 'good 5 years post retirement' to really work it all out and find himself.

However, only a cynical person would see all the side work during footy as a waste; clearly developing a skill set which you can't put a price tag on. How else would Jason Stevens be the first NRL player to make his first feature film all on his own? "You've just got to cut your teeth" Stevens explains. "There were years there I didn't know what I was doing….just dive in, learn on the run. A lot of NRL players retire around 30 and they are at the bottom. They put things off waiting for the right time. They have no confidence to go and try something that they aren't good at and others in that chosen industry have done for 10+ years. But there's never a right time; just jump in". It is understandable this lack of confidence for some players – they spend 15 years perfecting their craft, they are told by the fans, coaches and media of how good they are so they simply can't process not being 'good' at something and, like all humans, we usually don't persist with things we aren't good at (I've started playing Golf again for the 10th time recently). So what is the solution? "Start early. Don't put it off until the end. Use all that free time wisely so the jump from playing to retirement isn't as big". Stevens implores. If there is any silver lining from the Covid isolation period, perhaps some players may have realised this need even more so.
Connect with us on social media!