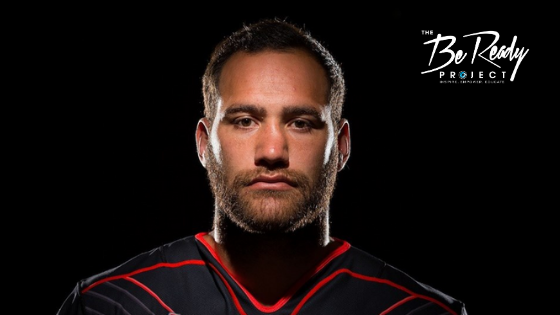 Bodene Thompson: "Attack that fear"
Mantras can be used by people from all walks of life in a variety of different ways. Some can inspire an entire nation ('We shall NEVER surrender' – Winston Churchill). Some can, unfortunately, turn into Instagram inspired cliches ('live your best life', anyone?)
The most important thing is what they mean to and how they inspire that individual. If Rugby League player Bodene Thompson has a mantra, it would be 'Attack that Fear'. He believes it so much, he unknowingly mentions it 8 times in a 20-minute podcast! But for this New Zealand born, somewhat Australian raised-Polynesian; living in Canada, playing mostly in England – what does it truly mean?
Following Benji's fancy footsteps
At 15, Bodene Thompson was sent to live in another country with an Aunt he had never met. He could not read. He could barely write. And he had been expelled from every school he went to in New Zealand, which was quite a feat considering he "barely turned up". Luckily, Bodene checked out his new local high school on Gold Coast, which happened to be the famed football nursery Keebra Park High, where a skinny kid also from NZ with a step and a flick pass had graduated a few years earlier.
Despite never playing Rugby League before, Bodene found his way into the starting 17, being the only player not on a scholarship of some sort. The biggest concern for Bodene was the school's policy of "No Grades; No Play"; meaning he had to pass all of his subjects if he were to run out in the schoolboy competitions. "Thankfully, I had some understanding teachers who helped me out; they really saw the struggles I had with learning and took the time to help". In hindsight, being forced to learn was the best thing that's happened to the edge back-rower. "This really put me on a path….I thought 'far out'. I can do this…..it really was the first journey of learning. Originally, I always shied away from the study because I barely went to school and I wasn't any good at it…..I was scared when I read a paper in class; I'd go all red and get embarrassed. As I got older. I got more control of my emotions".
Mid 20's, 3 Prime Ministers and a change in thinking
Bodene might be aged 31 and 107kg now but rewind to 2007 and you can add another 11kg to that then 19-year-old frame. Yep, the first year out of school, playing for the local Burleigh Bears, drinking too much and up to 128kg. Even when he cracked NRL in 2009, by shedding 31kg and giving up alcohol, he was, by his own admission, coasting on the Gold Coast. "I definitely took things for granted in those 3-4 years at the Titans". However, with the ever-increasing scrutiny and social media pressure on young NRL players, it is important to remember a few things that are backed by science.
2013 was an interesting year for Australia. Not only was Julia Gillard Prime Minister but so too was Kevin Rudd AND Tony Abbott. Most importantly for Bodene Thompson, he turned 25. Why is that significant?
"Up until I was 25 I was really shy …"
" I only realised when I was 25 that footy is just a game and there's more to life"
"It wasn't until I was 25 that I saw Mat Rogers retire and I thought 'What am I going to do when I retire". Go to Google and type "when do males brains fully develop" and guess what the answer is in big bold font. Yep – 25. Coincidence? Nope – it's science.
Learning to read – from a footy coach
Most of us remember learning to read at age 5. Looking up at those posters in Kindergarten titled 'Aa, Bb, Cc' and so on. For Bodene, it was as an adult; studying Jason Taumalolo's late footwork or Cameron Smith's subtle ruck plays. "I learnt to read by studying the coaches weekly tip sheet for the opposition. I would try and read it myself then ask my little brother about words I didn't understand". Despite this apparent handicap, Bodene was placed into the Wests Tigers leadership group in 2013 (at age 25, of course) – a moment that he believes has shaped him as a person and allowed him a 'call to arms' to his fellow pacific islanders. "It's a big thing for us Islanders, we are reluctant to step into the limelight and take a leadership role.
It's crucial for us to learn…we've never been that guy at the top; we've always been the workers. But if you physically show me something then I understand better than if you just told me verbally. Up until 25, I was really shy – I should never have been. (Young players) should step into their role – step outside their comfort zone of the Maori culture".
Stepping out of your comfort zone
Bodene Thompson may be 31 and under contract with the Toronto Wolfpack for a few more years but retiring tomorrow wouldn't faze him. "I would like to play a few more years but if I retired next year then so be it; I'm in a good position". This is a stark and refreshing contrast to the person whom he described as "a bit lost and without purpose at 21" but goes onto philosophise "that it's OK; you don't have to know – no-one knows…you never know what tomorrow knows". One thing Bodene is sure of is having a balanced approach to life as a professional footballer "I think the key is you're not solely focussed on football, make sure you are doing outside of it – whether it be volunteering, helping out the community, go to Uni, do a little course – anything. Anything you want to do that gets your mind off it helps".
Bodene has praised the Certificate III in Fitness course he is currently doing with One Wellbeing but despite this, he potentially might not see his long term future in fitness. "Ideally, the dream would be firefighting" building upon the volunteer brigade work he did while playing for the Warriors in 2010. "But it won't happen overnight. So maybe a little business venture first. My partner is a dancer so we could open up some fitness/dance studios first" supporting his strong advice for young players to get involved in any course because "you might not use that course but it can lead to something else".
Become the superhero you never thought possible
There's a 2000 movie – "Unbreakable" – with Bruce Willis as an average guy who is the lone survivor of a 131 person train crash. After this traumatic experience, he comes to realise that he is in fact a superhero underneath. Although not to these fictional Hollywood extremes, we can still draw many parallels with Bodene here and hopefully translate this into our own lives. Sometimes we need to get out of our comfort zone to discover deep down what we're really capable of. "Get out there and do things that interest you. Studying was always a fear for me. Attacking that fear is the mindset that I take these days. That fear can overcome you sometimes but attacking that fear and just putting things in motion, having more confidence and putting the feelers out there; just doing whatever you need to do to find your purpose"
With the Toronto Wolfpack now the first ever trans-Atlantic professional team in ANY sport, here's hoping they find their purpose in 2020 like Bodene has too.
Listen to Bodene speak about his journey here on the Be Ready podcast.
Connect with us on social media!