Duke has the Aces
Posted on
October 26, 2021
In the competitive world of Soccer, clubs like Manchester United and Barcelona are famous for having academies for children, earmarking them for greatness from a young age. Socceroo star Mitch Duke still wasn't professional when was 21, working 3 jobs while playing high intensity football and trying to get ahead of those who were full time just to get a contract. "Thankfully I didn't give up on it" he sighs, a week after scoring his 6th goal for the green and gold. "Everyone has different roads to where they end up".
Out of the shallows
"If you feel safe in the area you're working in, you're not working in the right area. Always go a little further into the water than you feel you're capable of being in. Go a little bit out of your depth. And when you don't feel that your feet are quite touching the bottom, you're just about in the right place to do something exciting" – David Bowie. 
After playing 50 games for the Central Coast Mariners in the A-League over 2012 and 2013, Mitch Duke could have ignored Bowie and placed his feet closer to shore. Instead, he swam way out to sea, without a life jacket and went to Japan to play. " I couldn't speak any English over there…..my partner moved her life over and wasn't enjoying herself – it really wasn't easy. There were constant challenges along the way but I think we kind of just took each hurdle as it came. And mentally each time you got past one, it just made you stronger, made you deal with things better, made you kind of appreciate certain things as well". Mitch Duke sounds like he might have played well under Premiership winning NRL coach Phil Gould; with his coaching style summed up by his famous phrase "You need to get comfortable being uncomfortable". 
Home from home – via Zoom 
However, no amount of mental resilience can overcome the heart. Just like no amount of Sushi could dull an Aussies craving for Vegemite toast. Athletes regularly speak about needing an outlet away from sport to take them away from high level demands. What does a boy from Western Sydney do away from the pitch in a non-English speaking country? Mitch explains "I'm aware that I've probably got maybe a solid five years at the top level left. So I started thinking about putting that energy towards a stable income coming in, post football. So I started looking at doing some study just to educate myself in certain areas that I can look forward to post football". For a guy who said even getting a haircut was a nightmare in Japan, attending study there would be near impossible. Luckily, Duke enrolled into his Certificate 3 in Fitness with One Wellbeing, allowing him to complete his studies via Zoom, all the while having that familiarity of hearing an Aussie voice through the laptop. 
Routine with no routine 
Last week. Mitch Duke was scoring against Oman in Doha. Just before that, the Socceroos had just lost to the Blue Samurai in Japan. Soon, they will be in Australia to continue their World Cup qualifying and Duke will also have to fit in playing Japanese Club football. Throw in the Covid chaos and Duke may have completed his studies in 10-20 years time following traditional face to face methods. Flexible study has not only made it easier for Mitch to complete it, but having that study has provided an outlet away from the rigours of travel and playing. Who knew studying could improve an athlete on the pitch as well!
Create the lifestyle you want
Transitioning from professional sport is a term that is regularly brought up as being fraught with a myriad of challenges. Duke adds a different challenge to the topic "It's a tough transition speaking to some ex-players. It's the mental side of things because you get used to living a certain way for 10 plus years, 10 to 15 years. (some days) You may train 3, 4 hours then you've got the rest of the day off", further explaining how hard it would be to go from that lifestyle to a 9 to 5; 40 hours a week one. "But if I could create a life where I could be my own boss, I'lll be the happiest man alive".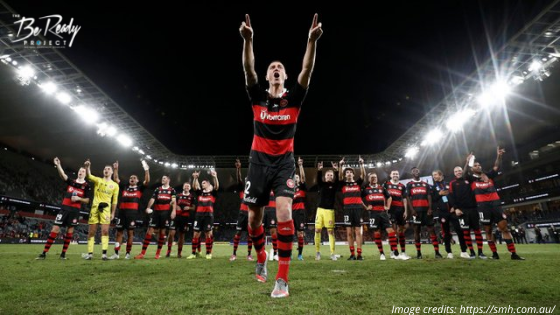 Strike while the irons hot 
There are stories from 'back in the day' when Year 10 students, upon graduating, would attend their local careers day, talking to local businessmen and choosing a trade based on simply what was available. No gap year to 'find yourself'. It was just choose what was available because next year you were either living on your own or paying the folks board. Some may have been forced into a trade they didn't necessarily like for 40 years because they simply had to make money. Mitch Duke is wary of this "I think the most important thing for me is if I can create something while I'm still comfortably earning a good salary playing football, I can afford that period of time that if I create my own business, and it doesn't create any profit at all for 6 to 9 months, I can get through that period because I've still got a stable income". Some athletes have the safety net of a good income and study opportunities while they are playing. It is pleasing to see those like Mitch Duke leveraging those advantages now while he is playing so he isn't left in the first year of retirement, at the Careers day, being forced into making a rash employment decision for the next 30 years!
Listen to the full podcast