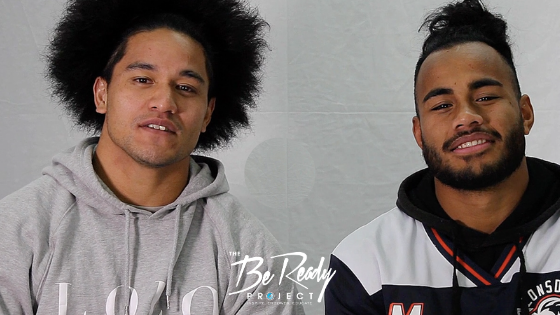 Follow Your Passion and Build a Long Term Career in Sports
"Find a job you enjoy doing, and you will never have to work a day in your life," said Mark Twain. If you are a professional athlete, you are most likely experiencing this right now.
Every day, you wake up and do the thing that you love, play your favorite sport. It is your passion. It is your job, a job that pays you well and provides for a gratifying life.
Everything is in complete sync. Years go by, and before you know it, the time to look for an alternative career is here. Most people accept the compromise and settle down for a job that they are not passionate about.
You don't have to do that.
There is an alternative path that you can take, one that will let you continue to do what you love. If you plan early, this is possible. Listen to Rens and Criter who are preparing for this transition early in their careers.
As a young kid, Renouf To'omaga wanted to become a firefighter. "You can help the community and look cool while doing it," says Renouf. Christian Crichton's dream is to open a sports academy to train athletes in rugby league and football. They both share a passion for rugby league and the drive to give back to their community.
They both currently play in the NRL for the Canterbury Bankstown Bulldogs. Along with their professional sporting career, both Renouf and Christian are working on their Certificate III in Fitness with Leon Keir of One Wellbeing for the past six months. One Wellbeing encourages athletes to be proactive and start preparing for a future career in the fitness industry, staying connected to their current passion.
"A good career goes for about ten years. After that, when reality hits, you don't have anything to go back to," says Christian Crichton. "I think it is essential for athletes to be doing some study. Our careers only go for so long. So we've got to figure out what we can do after sporting" adds Renouf.
One Wellbeing prepares athletes like Christian and Renouf to plan and prepare for a better future. Studying while managing a full-time sports career can be difficult. However, the team at One Wellbeing understands this and has built the complete course to help athletes overcome this challenge.
Managing a Professional Career and Your Studies
Flexibility is the first challenge that awaits athletes who set out to study along with their professional sports careers. Over the last eight years, One Wellbeing has developed an Athlete Education Program tailored to fit today's athletes and their demanding schedules.
Another thing that keeps athletes from signing up for a course is their lack of confidence. A lot of these talented athletes feel scared to engage with these courses even when there are opportunities available to them.
Chris Lawrence and Leon Keir, directors of One Wellbeing, use their experience as professional players to provide the support that these players need and deserve. This includes tutor support, learning support and also helping them to be flexible and find the right balance between their careers and the course.
Better Today, Better Tomorrow
It is not just about preparing for a future career. Understanding the methodology and science behind fitness enables the students to see their current game and training regime in a new perspective.
"I'd definitely recommend this course to other athletes. It's taught me a lot about training, nutrition, and recovery. It's helped me learn a lot about what to eat, whether I'm training right or if I'm training too much. It helps with my game and be a better athlete now," says Renouf.
Are you an athlete looking for a way to build a longterm career? What are you passionate about? What obstacles are you facing while trying to pursue this goal? We would like to hear from you.
Connect with us on social media!