Kid from Blacktown, speaking French with a house in Canada
It's hard to believe Wade Graham is only 29 years old. Debuting way back in 2008 as a 17 year old playing five-eighth, there's not many players who have had a long and successful career in the NRL as the Blacktown junior. On paper, Graham would be a prime candidate to be a 'footy head' – only focused on Rugby League, no need for school or education, not concerned about anything else. In fact, he references the term 'tunnel vision' several times himself. But now, the Hills Sports High alumni has and is continuing to smash that stereotype on and off the field.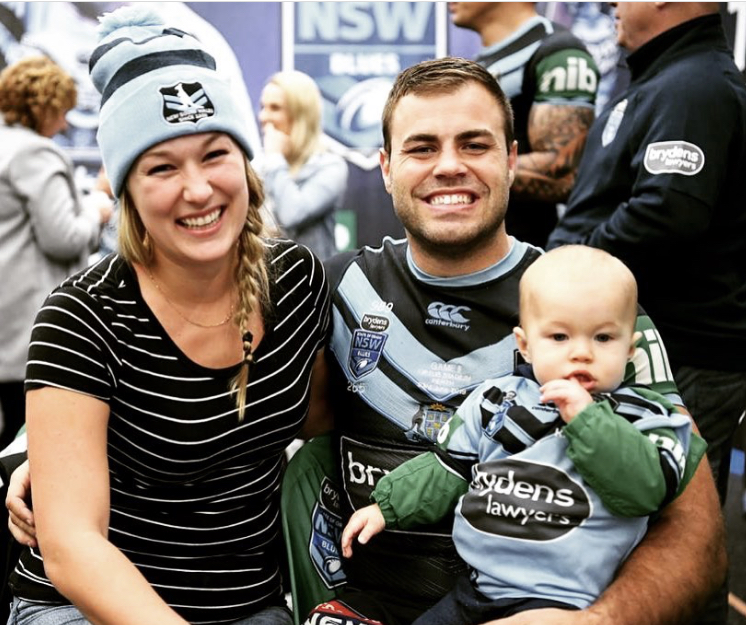 As with many men, Wade Graham's "moment" came when he met his wife Karianne. "In Australia, it is easy to get caught up in that fishbowl and have tunnel vision, thinking only about playing footy" Graham admits. "I met Karianne who had been travelling around the world, doing various jobs, picking up life skills and experiences" and for the Cronulla captain that really hit home that he didn't have anything else outside of rugby league. "I was highly skilled in one thing but no skills anywhere else. If I went down to the local cafe and gave them my resume, I wouldn't have anything to say outside of playing footy". As Karianne has left her family back home to support Wade in his footballing pursuits in Sydney, there's a very real chance that Graham could be returning that sacrifice by spending his post career years over in Canada. "It's a real possibility, we have a property over there. And the scary thing is there is next to no league in canada. I've got no qualifications outside of a Higher School Certificate. That safety net of footy would be gone".
Wade Graham has always been a skilful player. Commentators such as Andrew Johns gush over the 'old school, natural footy player' he is, compared to the stereotype of the modern day backrower who is coached to a system; not playing instinctively. Off the field, however, Graham couldn't rely on that talent and has had to gradually work on building up his skill set, starting with his Certificate III and IV in Fitness with One Wellbeing in 2017. Graham, like many other athletes who study, references 'getting out of his comfort zone' a lot. It appears starting the education journey with a course that a player is already comfortable in might be that first spark that lights the fire. "Fitness is an easy transition for me, I've always been around training and being an athlete I am heavily involved in those things already'. From here, the 2016 premiership winner has gone on to be a current Director of the Rugby League Players Association (RLPA) and with regular appearances in the media such as Fox Sports and Triple M, the fire is well and truly burning.
Beginning his fitness course, Graham identifies time management as his biggest obstacle "At the start I got a lot of the content done. Then I started playing State of Origin, the media commitments went up leading into finals so I started to drop back a bit". Just like a New Year's resolution, the good intentions can start to slip after a while. But, perhaps taking a leaf out of his well known hard training ethic, Graham recommends it is always easier to keep going than starting anew. "Keep knocking little things over – one day here, two weeks later another day, just keep fitting it in, keep it slowly progressing" By the time Graham tore his ACL at the end of 2018 and more time free came up, it was an easier transition into getting the rest of the course done.

Most Australians would associate a Canadian as speaking English as a first language. Wade Graham would have been one of those people too before he met his wife from the French speaking province Quebec. Potentially moving to Canada post career, not only would Graham be in a country with next to no Rugby League and devoid of his stature and connections, he would be in a non-English speaking environment. "When I started the language course a few years ago, I thought it would be cool to be able to say a few things in French. However, after my son was born and we decided to raise him bilingual, it drove me to commit more to the course" Graham explains, which involves attending class once a week after training for 2 hours every Monday, again adding another vital skill but only once the match had been lit, proving we all need that initial motivation to get started.
Wade Graham has been a professional Rugby League player since he was 17. A relieving left foot kick for touch. A big hit to inspire his teammates. A smart double pump pass down a short side. But when he signs an NRL deal for good money, is he the best person to deal with his finances, budgets and investments? "That's been my biggest off field growth area in the last 18 months – surrounding myself with these professionals in those areas to really put myself in the best position off the field as well" Graham explains. "I've got my finance guy to help with my budgeting, investing my money, so it is all sorted". But Graham also understands that you can feed a man with a fish for one day but if he can fish himself, he can eat the rest of his life. "I've been working closely with my accountant, not just sending him the bills and information but to actually learn about it for my own benefit. I'm the type of person who likes to know what's going on". The lakes in Canada are pretty frozen for Rugby League players so it is important Graham assembles more than just an on-field highlight reel (or rod).
Wade Graham said he would have laughed if you told him that above summary a few years ago. These are fabulous skills and experiences that most people wouldn't dream of. But the reality is this doesn't come gift wrapped when you sign an NRL contract; sure, there are plenty of avenues that are afforded to players but ultimately it's up to them to take that initial step, put in a little extra work and then reap the benefits in the long run. "Don't be scared of the challenges outside of your comfort zone – I was guilty of that" Graham recalls about his younger years. 'You never know what is going to happen so don't be afraid of something different, not just physically but intellectually as well – at least be open to try something at least once".
For Graham at age 29 he admits that to get another 4-5 years of Rugby League out would be very fortunate. But even then, life is just beginning – there's so many more years outside of a career, "Those footy years are a great time while we have them, they don't last forever but life goes on a lot longer than your footy career. You don't earn enough to get you through your 30's and 40's, you always need to do more".
Connect with us on social media!