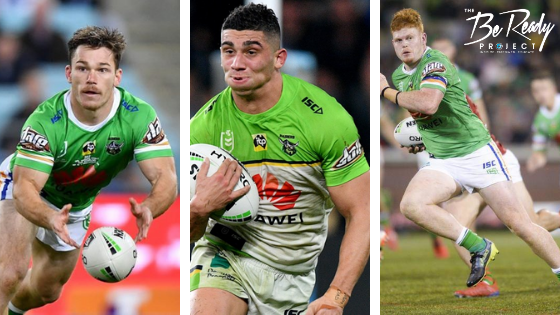 Rookie Raiders Ahead Of The Game
We've all heard the stereotype about the young millennial NRL player – makes first grade, upgrades his contract handsomely then spends all his spare time playing Call of Duty. And hey, sometimes where there's smoke, there's fire. But, as often is the case, for every stereotype there are plenty more antitheses; quietly working away and doing the opposite of what many think of them.
Friends through learning together
Take these 3 young Canberra Raiders for example:
A current Kiwi International: Bailey Simonsson
A 'future QLD Maroons' player: Corey Horsburgh
A NSW Cup/first grade player: Tom Starling
Despite all 3 players being at different levels within the NRL, they all share the same belief of setting themselves up outside Rugby League through education. It could have been tempting for Bailey to turn his back on studying after going overseas with the New Zealand team at the end of last year and think that he had 'made it' in Rugby League. But they are aware of the 'bigger picture' that a Rugby League career is short. The trio have been studying their Certificate III and IV in Fitness with One Wellbeing. While all 3 boys admitted they "didn't really engage in the classroom" and only stayed at school to hang with mates and play footy, those past experiences with education haven't stopped them from embracing learning a few years out of school. "Like Tommy, I wish I had tried a bit more at school' Corey says cheekily, "I really encourage those boys in school now to sit down and learn….by the time you get to my age it's already done….if you love footy you've got plenty of time for that".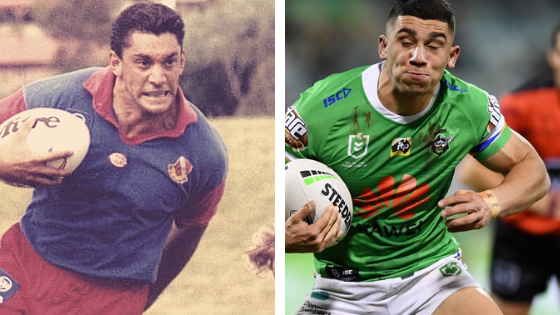 Walking in his Father's shoes
"In school, I had the mentality that (learning) doesn't matter as I'm just going to play footy' – Bailey Simonsson.
In 1991, two young Rugby Union prospects arrived at the now defunct North Sydney Bears; looking for an opportunity in a different code after falling just short of representing the legendary All Blacks. One player was Daryl Halligan, now considered one of the greatest goalkickers of all time after an illustrious career which saw a premiership win with the Bulldogs in 1995. By Daryl's own admission, the other Kiwi player was 'much better than I was' however, he only managed 3 first grade games after several bad injuries. That player? Paul Simonsson, father of Bailey. Is it a coincidence that Bailey is now taking steps to set himself up outside of the game? Rugby League didn't turn fully professional until Super League first hit in 1995, so fortunately Paul was forced to have a career in Law enforcement therefore making his transition from football somewhat more manageable. But what would happen to a full time NRL professional who was forced to retire tomorrow with no other qualifications?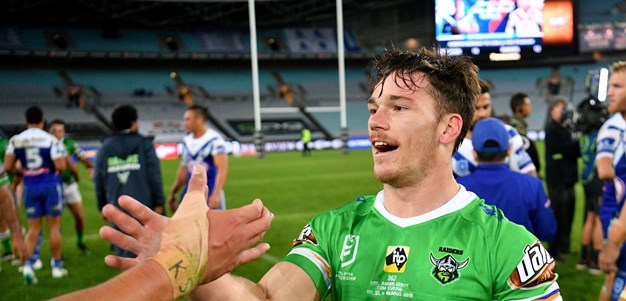 Image credits: raiders.com.au
Go with the flow or discover your capabilities
Tom Starling openly admits that without Rugby League and having the chance to gain some qualifications, he would be pushing a wheelbarrow around. "Not that there's anything wrong with that", the larrikin hooker said. "But I wouldn't have any direction, I'd just be on a job site. Now, I want to go ahead and get my Strength and Conditioning (S &C) course and, in the future, training high profile athletes would be something I would love to do". As you can see, often all it takes is an opportunity. In high school, a lot of these players are too preoccupied with trying to make Schoolboys teams, cracking an NRL system and simply being a teenager to put education first. Luckily for Tom, he's now been given that opportunity. But how many other guys are out there working on a job site because that's the status quo for males who aren't academic, when in fact they harbour other hidden dreams and talents? (We've all seen Dale Finucane play a guitar!).

Passion – on and off the field
If you've watched footy in the past 2 weeks, you know Corey "Red" Horsburgh plays with his heart on his sleeve. "He's my new favourite player" exclaimed a journalist on NRL 360 in response to his passionate outburst against Parramatta. Corey's passion also translates off the field, already completing a course in youth work on top of his fitness certificates. Sometimes, at-risk juvenile boys just need to have a role model who takes an interest in them. Corey aspires to be that guy. "I'd like to work with naughty kids – that or something with fitness". Again, it would be easy for a young player touted to play Origin to rest on his laurels and focus on footy only. But Corey seems like a 'throwback' to the semi professional era of Rugby League, an Aussie country-type lad who wants to help others. If there is one silver lining to his potentially season ending injury is that it may reinforce that need to keep studying and building those off field skills and experiences, something he is excited for. "I am also keen on going down the S & C path as well, I want to do something on the side each year, tick it off". 
Study while playing – what is there to lose?
The average NRL player will play around 40 games. That average may even be generous due to Cameron Smith's 400 games bumping it up. And that is just the average player – what about the other 49% who may play 1, 2 or 10 games only – just like Paul Simonsson. Don't forget Daryl Halligan, who Paul was supposedly better than, went on to play 230 games; Paul just the 3. Back in 1991, players were forced to have a main career outside of footy, with Simonsson forging a successful career through a number of Government jobs; currently working as the head of intelligence for ASADA. Should all players be forced to do compulsory study as well as playing? That may not ever come to fruition in this professional era but what's the worst that could come from it? These 3 young Raiders certainly don't disagree!
Listen to the full podcast.
Connect with us on social media!