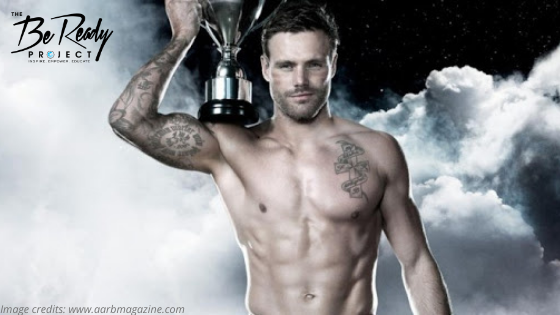 The Cronulla Chameleon
Posted on
October 8, 2020
St Patrick's College Sutherland Athletics carnival. Sylvania Waters track, May 2001. Sitting trackside after completing all my u/13's races, I was keen to watch the Open male 100 metre final and, being a young, aspiring athlete myself, cheer on my house. Casting my eye over the field of eight, there was one runner who stood out to me as he was in a full Superman outfit including the red cape. "This bloke is taking the piss – this should be a laugh". Before I can take another thought, Superman is flying past me, so far in the lead and with the red cape flowing, it's like he's in a different universe. That runner was Nick Youngquest and even though he never fully set the NRL alight, you just knew that he would make an impact on the world in some way – just like he did to that impressionable 13 year old on that day.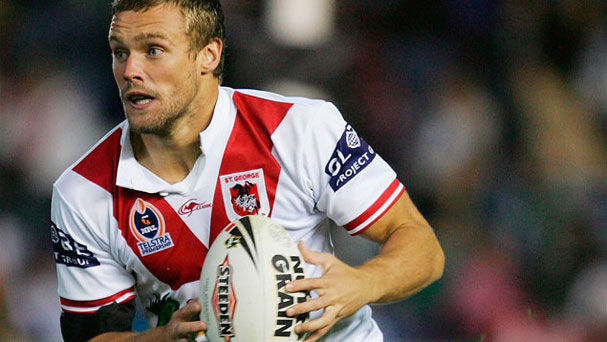 Image credits: http://greginhollywood.com/
Nick Youngquest – a snapshot:
114 top level Rugby League games across 7 clubs in NRL and Europe until 2012
Numerous modelling campaigns including Abercrombie + Fitch and as the global face of Paco Rabenne
For the past decade he has been living in Paris, Portugal and New York; now back in Australia.
Through his athletic and charitable experiences as well as tertiary education. Nick is currently heading the company Athlete For Life which aims to be 'an empowering ecosystem promoting athletic identity transformation' – aimed at transitioning athletes.
In the recent The Dark Knight trilogy, Batman presents himself – Bruce Wayne – as his true 'alter ego' – superficial, shallow and oblivious while the Caped Crusader is more akin to his real personality – strong, ethical and righteous. Nick Youngquest has all the attributes of an alpha male – athletically gifted. Intellectual. Male model. Yet why does he feel like he's also hiding behind a mask of false confidence and self doubt at times?
2012. No more footy. Nick is packed and ready to move to New York with his then girlfriend. His phone rings. "I think you should stop into Paris and go to that Paco Rabenne meeting – it could be a good opportunity". Reluctantly, the Cronulla surfie goes to the French capital but feels lost entering a world of modelling. Shy. Inferior. Not as good as the others. "But, I had a moment where I thought 'bugger it' – I'll just be as authentic as us Australians are. So that's what I did in the meeting – talkative, confident, outgoing and I was hired on the spot" – resulting in an ongoing relationship with fashion label Paco Rabenne to this day.
The billboard is striking. Shirt off. Confident grin. Holding aloft a trophy. Paco Rabenne Invictus fragrance description: "Incarnation of a man in all his power. Absolute hero. Blessed by the gods and ready to take on any challenge. Invictus men fragrance embodies the victory…. Two forces that nothing (and no-one) can resist. A mythical scent for a man who is a legend". Look up Nick Youngquest on Instagram and apart from the smouldering good looks staring back through the screen, there's a quote in his bio. "Harness your vulnerability for it to become your greatest strength". Vulnerability? That's hardly the masculine message Invictus portrays? But contrary to what a shy 14 year old male might think, it is not about not having insecurities – everyone has them – it is about controlling them. Harnessing them, as Nick points out. That. That is strength.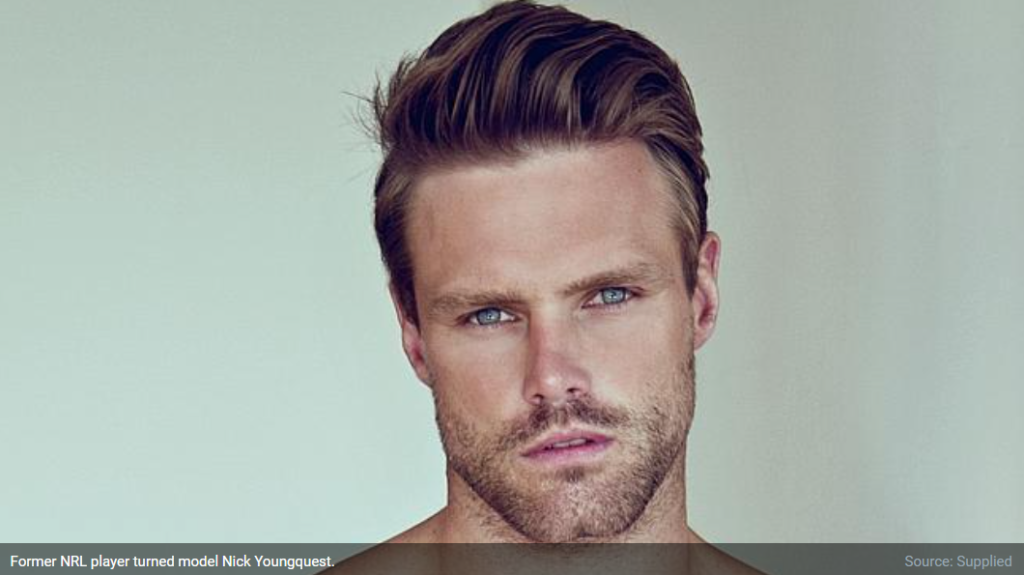 Image source: foxsports.com.au
The former winger believes a person has 3 main growth areas – personal, professional and social. Leaving the NRL in 2008 might appear as a bad move for one's footy career to some but escaping the "Sydney bubble" by living overseas and travelling was probably the "best thing I ever did; not just as a professional but also as a person". Moving over to the UK initially, Youngquest started an online University degree; believing it was a stepping stone to the US where his then wife was from. "Not having a degree in New York limits you professionally…. I was terrified of living in the US, I had heard that you need a College degree, it's not like Australia". If not for that situation he was in, Nick never would have done that first degree; he was forced to sink or swim. "The degree was hard……however I'm glad that I did it as it's finished now and it has allowed me to pursue other postgraduate courses" pointing to the certificate in high-performance sport and leadership at ACU he is currently studying.
Find and keep that structure
The 37 year old explains starting the company Athlete for life "The reasons why I am doing the things I do is because of the struggles that I had myself. I didn't play much NRL or higher honours but once I dealt with my own self efficacy issues I felt I'm the right person to pass on what I've learnt". The genesis of the business can be traced back to when Youngquest had retired from footy and decided to run the New York marathon in 2015. For him, it was getting back into a structured exercise and training regime after a few years of struggles. "Mentally it was really, really good. I would run in the morning, go to work with more clarity and could do things better and with more confidence". After running 42.2km in The Big Apple, Nick found himself in tears. "Before the marathon I was lost. Having that structure is something that I longed for but didn't know how to find it". Striding into Central Park, he suddenly realised that he had found it.
Transcend your identity as an athlete
One common theme that comes up with almost every retired athlete on The Be Ready Project is the issue of losing their identity. Who am I if I am not a footy player? Hearing Nick talk, you can hear the genuine passion he has for helping those embarking on the path he has recently trodden. It's not about money; it's about giving back, being a mentor, helping athletes find their new identity. "You go to the pub and you can see that 45-year-old guy who played NRL and is still living that past life… It is good to reflect and listen to the stories. But if it becomes a constant then they're not transforming or transcending their identity; they are still exclusively identifying as a football player. And that's sad for me because in the public domain they are still portraying this big bravado identity but behind closed doors are they struggling?".
Players need to stand on their own
In the Australian models words, Athlete for life aims to "provide platforms and networks for transitioning athletes to access and build more resilience by empowering them". Nick explains that sporting bodies are doing an amazing job in the wellbeing space but some athletes need a different approach. "It is not about academics coming and talking to players. We need to build a lot of data, have indicators and touch points on how people are travelling and tracking during their career. We need to have the ability to implement programs so the players can personally see the markers" suggesting it is more powerful to see this than have someone tell you. "Fairly quickly after you're finished (playing in the NRL), you are done and you're on your own. Not everyone is a Johnathan Thurston – majority of players need to stand on their own'".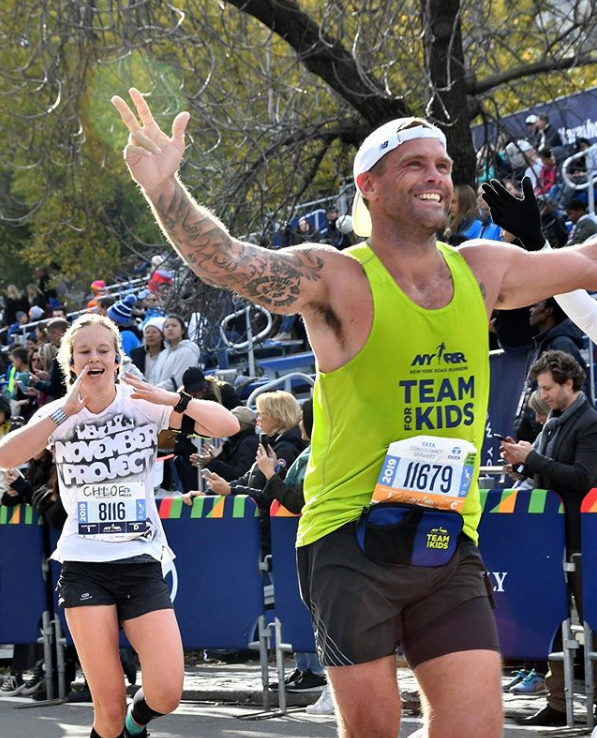 Image source: Instagram post @nickyoungquest
Model: noun – "a thing used as an example to follow or imitate".
Behind the billboard, Nick Youngquest might not be the living embodiment of the "incarnation of a man in all his power". (Is anyone?). He might not wear the red Superman cape anymore either. But I think his superhero path is different. Just like Batman, I think he'd prefer to spread his influence by shunning those superficial characteristics and follow the Caped Crusaders personal motto "It's not who you are, but what you do that defines you". Nick Youngquest has all the attributes of an alpha male – but it is what he plans to do to help others that he hopes will define him.
Connect with us on social media!