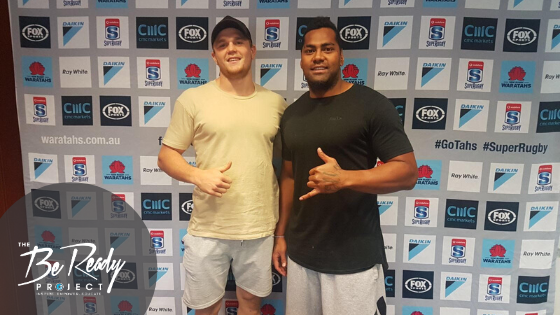 Use Your Passion Today to Plan a Better Tomorrow
"The only limit to our realization of tomorrow will be our doubts of today." Franklin D. Roosevelt.
For Lachlan Swinton who currently plays for the NSW Waratahs enjoying his current sport is essential, however, at the same time, he understands that building a long term career is important too. He is currently working towards this better tomorrow and has some advice for anyone who wants to do the same.
"Some advice that I would give to boys and girls trying to become a professional athlete and learn at the same time is being organized and having a plan and following that plan."
The first step in creating such a plan is figuring out what you want to do. This gives you a goal to work towards. Lachlan has a tip for that too.
Make your Passion a Part of Your Plan
Lachlan says that if your goal is related to something that you really enjoy doing, things will be much easier. Learning, along with a full-time sports career, can be challenging. If your goal is related to something that you are passionate about, you will find it easy to overcome those obstacles and move forward. "It becomes much easier if you enjoy what you are doing. That's what I've done, and that's why I am still here", says Lachlan, referring to his current program with One Wellbeing.
Lachlan wants to become a fitness instructor and one day open his own gym. He is passionate about gym and fitness.
"I enjoy everything that we do here day to day, the gym, and the field. I have a passion for learning everything related to gym and muscles etc. I find it interesting to learn about the science behind everything".
Find a Realistic Training Plan
Lachlan says that he has tried a previous Certificate III course, but his current course is more realistic and that's what he likes about One Wellbeing's program. "This one is more realistic. You get things done consistently, but with a good amount of time. That's what I like about it the most."
"I would definitely recommend this course because it is very specific to athletes in terms of scheduling and understanding and is tailored to what we need. It has 'students and athletes first' mentality."
Even if you are doing really good on the field, it is crucial to have a backup. This also is part of the plan for a better tomorrow.
In Lachlan's words, "Even if you are killing it, you still have to have a backup. Even if something goes wrong, I know that I can give a crack at something else. This course has given me that confidence. It has opened me up to all the areas of the fitness industry. I can definitely see myself pursuing that, and working my way up, all the way up to managerial roles."
Have you found something that you are passionate about? Are you working towards a better tomorrow while enjoying your passion today? We would like to hear your story too!
Connect with us on social media!